It's peaceful here.
You may have have thought that I was not gonna post this, after I put it on Ticklebooth. Wrong!

The Silent City is a short movie written and directed by Ruairi Robinson, starring Garvan Mcgrath, Don Wycherley and Cillian Murphy.

Three soldiers are marching in a desert landscape, after some battle has taken place (somewhat similar to Hold the Line) trying to save their skins.

Though the director patently use the movie to showcase all his skills in visual effects, I found the movie pretty good. Yeah, it may be true that the story seems to go nowhere, but that doesn't mean you cannot enjoy the ride anyway!

If you want to play the High Definition clip, make sure your system is good enough. On my PC equipped with a 2Ghz Athlon, it plays good in Videolan, not that good in Quicktime.

Potreste aver pensato che non l'avrei postato, dopo averlo messo su Ticklebooth. Sbagliato!

The Silent City è un cortometraggio scritto e diretto da Ruairi Robinson, con Garvan Mcgrath, Don Wycherley e Cillian Murphy.

Tre soldati marciano in un paesaggio deserto, dopo che qualche battaglia ha avuto luogo (similmente ad Hold the Line) provando a salvare la pellaccia.

Sebbene il regista usi evidentemente il film come prova della sua abilità con gli effetti speciali, ho trovato il film più che buono. Ok, la storia non va da nessuna parte, ma questo non vuol dire che non ci si possa comunque godere il viaggio!

Se volete usare la clip in Alta Definizione, assicuratevi di avere un sistema all'altezza. Sul mio PC con Athlon a 2Ghz, non ho avuto problemi con Videolan; ne da, invece, Quicktime.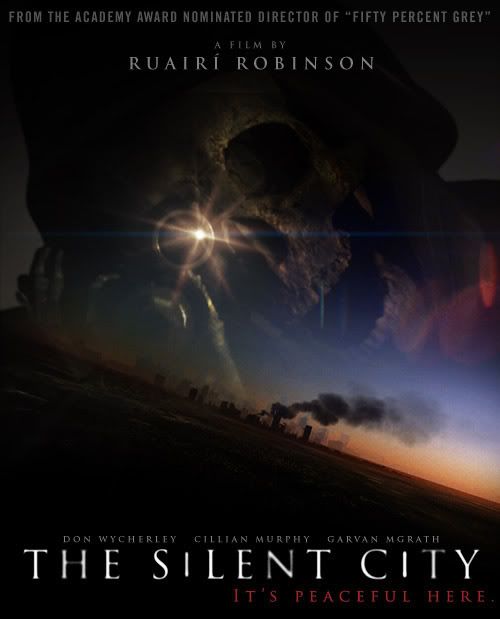 DOWNLOAD (HI DEF): Scarica The Silent City in alta definizione.
[Format: MPEG-4 - Size: 369 MB!!! - Running Time: 7 min.]
DOWNLOAD (HI RES): Scarica The Silent City in alta risoluzione.
[Format: Quicktime - Size: 104 MB - Running Time: 7 min.]
WATCH: Guarda The Silent City su Milk and Cookies.
[Format: Flash]
MAKING OF: Scarica la featurette sugli effetti speciali.
[Format: Quicktime - Size: 82 MB - Running Time: 6 min.]
LINK: Visita il sito di Ruairi Robinson.
LINK: La pagina di Ruairi Robinson su MySpace.
IMDB: Pagina di The Silent City – Ruairi Robinson
CODECS: Apple Quicktime – Flash