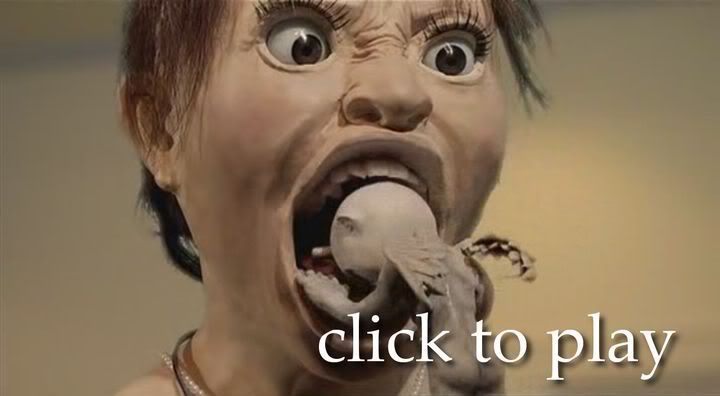 Hey ya! This is a cross blogged post. Another half of this post has just been posted on Ticklebooth!

Well. Happiness of the Katakuris (Katakuri-ke no kôfuku), directed by Takashi Miike, is a 2001 remake of The Quiet Family (Choyonghan kajok) a Korean movie. There's also a Chinese remake called A Mysterious Murder but I've never managed to see it, and it's not pertaining to this discussion.

The story is about a family which runs a guesthouse in the mountains. No customers arrive for the first days. Then people start coming. And dying. So, they decide to bury the corpses in the backyard instead of calling the police. Chaos ensues.

Katakuris adds to the original movie: some claymation pieces (the budget didn't allow to shoot the scenes which needed visual effects), musical scenes and larger than life characters; and there is less sexuality too.

Even though the original movie mixed the J-horror (K-horror?) genre with comedy, it firmly resides in mainstream. Katakuris, instead, is a-something that will probably never have a second specimen. But is it a good movie, you might be asking?

Well, if I didn't think it was a good movie I wouldn't waste time uploading this stuff. I'd like to quote this comment I've found on IMDB. The topic was: Better the original or the remake?

"They both have their merits. It's said that director Ji-woon Kim could hardly even tell that Happiness of the Katakuris was a remake of Quiet Family. But as far as creative use of the musical subgenre, this is one of the best. Right up there with Dancer in the Dark. Wouldn't it be great if we could all break out into song at emotional points in our life and start dancing with zombies? Well, maybe it wouldn't be that great, but it would be fun to watch, like this movie."

I guess it would be, yes. If you want to find out, just jump to the cross-blogged post and watch that scene from the movie. But check out this one first… An hommage to Svankmajer?

Salve! Questo post è in cross blogging: l'altra metà la trovate, come al solito, su Ticklebooth!

Bene. Happiness of the Katakuris (Katakuri-ke no kôfuku), diretto da Takashi Miike, è il remake del 2001 di The Quiet Family (Choyonghan kajok) un film coreano. Ci sarebbe un remake cinese chiamato A Mysterious Murder ma non l'ho mai visto, e comunque non è pertinente a questa discussione.

La storia parla di una famiglia che apre una locanda fra le montagne. Nei primi giorni non arrivano ospiti. Poi inizia ad arrivare gente. Ed a morire! I protagonisti decidono di seppellire i corpi, piuttosto che chiamare la polizia. Segue caos.

All'originale, Katakuris aggiunge: dei pezzi in claymation (il budget non permetteva di girare le scene che richiedevano effetti speciali), scene da musical e personaggi al di sopra delle righe; e c'è anche meno sesso.

Sebbene l'originale mischiasse commedia e J-horror (K-horror?), restava comunque un film tradizionale. Katakuris, invece, appartiene ad una specie che forse non vedrà mai un secondo esemplare. Potreste chiedervi se ciò sia un male o un bene…

Beh, se il film non mi fosse piaciuto, mica perdevo tempo a preparare e caricare filmati? Vi riposto questo commento dal forum di IMDB. L'argomento era: Meglio l'originale o il remake?

"Entrambi hanno i loro meriti. Si dice che Ji-woon Kim difficilmente si accorgerebbe che Happiness of the Katakuris è un remake di Quiet Family. Ma in quanto ad utilizzo creativo del sottogenere musical, è quanto di meglio ci sia. Insieme a Dancer in the Dark. Non sarebbe bello se in un momento particolare delle nostre vite potessimo fermare tutto e ballare con gli zombi? Beh, forse non sarebbe bello, ma di sicuro è divertente da guardare. Come il film."

Sì, immagino lo sarebbe. Se non vi fidate, passate al post su Ticklebooth e guardatevi la scena relativa. Però magari prima guardatevi questa… Un omaggio a Svankmajer?
DOWNLOAD: Scarica la clip da Happiness of the Katakuris.
[Format: MPEG-4 - Size: 24 MB - Running Time: 3 min.]
WATCH: Guarda la clip da Happiness of the Katakuris su Dailymotion.
[Format: Flash]
TRAILER: Il trailer del film.
[Format: Quicktime]
LINK: Pagina di Happiness of the Katakuris su Vitagraph.
IMDB: Pagina di Katakuri-ke no kôfuku
CODECS: Flash